Advertisement

Advertisement
The Ideal Teaching Tool
Access over 5,000 authoritative, continuously updated and interdisciplinary chapters from 25 multivolume works in one dynamic online resource
Click here
ENVIRONMENT
Scott Pruitt heads to EPA.
Former Oklahoma attorney general takes the lead of the agency amid controversy and uncertainty.
Institute Profile
A look inside the Crick.
Join C&EN's Alex Scott as he talks to researchers and visitors at London's new Francis Crick Institute to get their takes on the expansive facility.
BIOTECHNOLOGY
CRISPR patent battle not over yet.
Patent court judges release a long-awaited decision on the dispute over the gene-editing technology, but the legal battle is just beginning.
Advertisement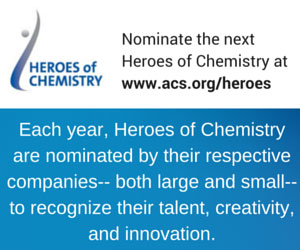 WHAT'S THAT STUFF
The chemistry of sports drinks.
The tasty mixtures of water, sugar, and electrolytes are useful for elite endurance athletes, but what about for normal fitness fans?
BIOBASED MATERIALS
Delivering on spider silk's promise.
Clothing brands are developing prototype products with synthetic spider silk, but scaling up the manufacturing process remains a challenge.