Advertisement

Colors from silver.
Silver nanoparticles ink-jet printed on patterned polymer sheets could be a fast, cheap way to make security stamps for authenticating documents.
SYNTHESIS
Braiding a molecular knot.
Chemists up the complexity of these tangled structures by weaving three strands together instead of just two.
MOLECULAR ELECTRONICS
The molecular computer, rebooted.
The idea of using single molecules as key components in computers has been around for more than 40 years. What progress is it making?
Advertisement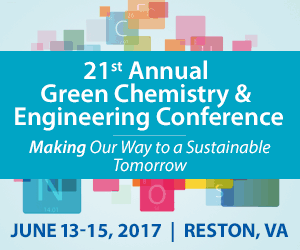 CHEMISTRY IN PICTURES
A tale of serendipitous carbohydrate crystals.
University of Glasgow chemist Ross Forgan discovered this 19-g crystal—presumably of sucrose—inside an old bottle of maple syrup. "I could hear something rattling inside but only when I went to throw it away did I actually have a look," he tells C&EN. "The block of crystals was so big that I had to cut the bottle open to get it out!" Read more about how serendipitous crystallization has shaped Forgan's research at C&EN's Chemistry in Pictures.