ADVERTISEMENT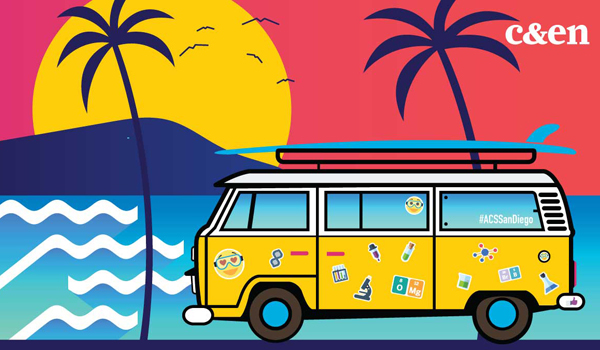 Wednesday, August 28, 2019
Good morning, #chemfans.
Welcome to your daily guide to chemistry's 2019 takeover of San Diego. C&EN's team of science reporters is still on the ground covering all the chemistry news you don't want to miss.
Love this email? Sign up here to get all the hottest chemistry news in your inbox, each and every week.
WHAT WE'VE LEARNED IN SAN DIEGO SO FAR
Reporter's Notebook
Nanotech guru Paula Hammond's advice for early-career chemists.
As a reporter for C&EN, I've been contributing to the magazine's Talented 12 program since it began in 2015. So, too, has Paula Hammond.
The very first call I made to start reporting on my inaugural Talented 12 profile was to Hammond, head of the Department of Chemical Engineering at MIT. You won't see her name in the bylines or other credits for our annual profiles of a dozen dazzling early-career chemists. But Hammond has been donating her time to C&EN behind the scenes, nominating scientists and making sure we understand the full extent of their contributions to chemistry as researchers, leaders, and mentors.
So it was fitting that on Monday morning, she kicked off this year's Talented 12 symposium at the ACS national meeting in San Diego. Hammond shared her journey as an independent researcher, designing polymers and particles at the nanoscale to help humanity. She's made materials to help wounded soldiers, as well as patients in their fights against cancer. Along with her scientific journey, Hammond also reflected on the people, opportunities, and mind-set that have enabled her success.
If you weren't among the attendees in the packed conference hall listening to Hammond, I'm excited to say: we've got you covered. C&EN broadcast the address on Facebook Live, and you can head to our Facebook page right now (or whenever is most convenient for you) to watch Hammond's presentation on demand.
I won't give too much away. No one shares Paula Hammond's wisdom better than Paula Hammond. But I did want to emphasize how she began her talk, reflecting on "the kinds of people you want to keep in your life or add to your life as you move forward." Hammond is that kind of person for countless chemists and many of us here at C&EN. I think it will be clear why once you watch the video.—Matt Davenport
Improving electrocatalysis.
A new approach that links catalyst and electrode could enable more efficient production of clean-burning hydrogen fuel by splitting water. Read more
ADVERTISEMENT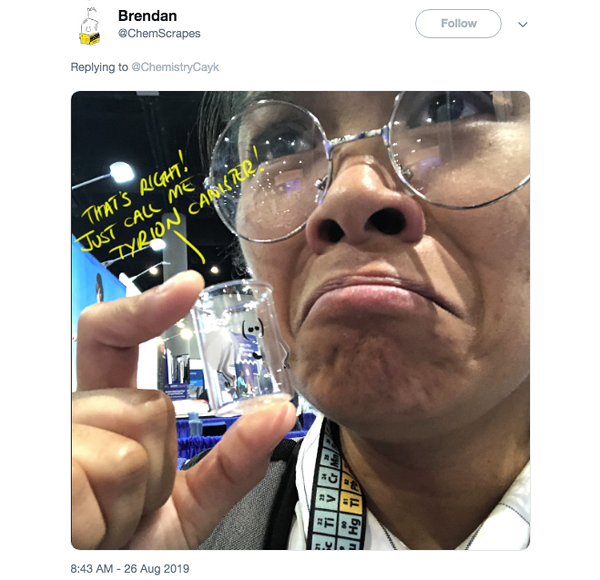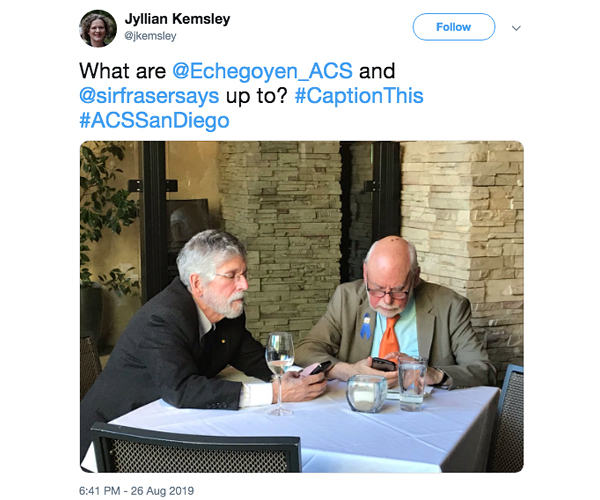 NEWS FROM THE REST OF THE MOLECULAR WORLD
As trade war escalates, chemical industry is caught in the middle.
Chemical makers say they would prefer the US and China talk through their differences rather than engage in a cycle of retaliation. Read more
Water treatment failures drove Newark's lead crisis.
Under the hot August sun, Newark, New Jersey, residents have been lining up for hours for their water allotment. Insufficient corrosion-control methods resulted in the neurotoxic metal leaching from the city's pipes. Read more
WHAT WE'RE EXCITED ABOUT TODAY
Is it time to say goodbye to your ball-and-stick models?
Three-dimensional printed molecular models are gaining popularity in chemistry classrooms as a way to help students understand abstract molecular concepts with more detail than traditional ball-and-stick kits. Join C&EN on Facebook Live to find out why.
12:30 to 1:00 p.m., Facebook Live
Scaling up flow chemistry in pharma.
Going with the flow isn't always easy. That's why chemists in this session will talk about what it takes to translate flow chemistry from the lab scale to the industrial scale.
8:00 to 11:35 a.m., room 7A, San Diego Convention Center
Geochemistry of the urban and lived environment.
When lots of people live in a concentrated area, our coastal waters, groundwater, and even the dust blowing around outside can change. In this session, researchers will talk about trying to understand these effects on a molecular level and their implications for policy.
9:00 to 11:55 a.m., room 29B, San Diego Convention Center
ADVERTISEMENT
On the wild side.
The meeting is winding down. If you have an afternoon to spare, check out the San Diego Zoo, which is one of the most impressive zoos in the world. Or you could wander over to the San Diego Zoo Safari Park, where you can watch animals roam in their natural habitat.
Across the water.
If you want to see what's on the other side of the San Diego Bay, hop on the Coronado Ferry at either the Broadway Pier or the convention center for a 15-minute ride to Coronado Ferry Landing. There, you can shop, eat, and even rent a bike to explore the island.
Offbeat sightings.
Want to know where to get a unique selfie in San Diego? Make your way over to the Scripps Research campus in La Jolla and check out the Scripps Turd sculpture, which is exactly what it sounds like. The 4 m bronze sculpture sits on the corner of John Jay Hopkins Drive and General Atomics Court, and it invites selfies. You can't miss it.